As a college student, you have already taken the first step to controlling your career destiny, but that is not enough. Spending four years going to class and then collecting a diploma won't prepare you for having a career. You need to make sure that you are not only active in class, but also off campus, out in the real world.
Transforming yourself into the ideal graduate job candidate may take a while. That's why it is important you use your time at college to improve your marketability.
To help you make yourself more sought after when it comes to leaving college and applying for jobs and internships, here are nine things you can do:
1. Get Good Grades
You may not realise it, but grades are incredibly important in employer's eyes. Employers want graduates with good grades. If you have excellent grades, employers will know that you work hard and have a good amount of knowledge. High grades also indicated that you are a hard worker with a strong work ethic – something that employers tend to value.
2. Self-assess Yourself
The first part of working out what you want from a career is identifying your interests, skills and personality. What are you good at? What kind of things do you enjoy doing? What could you improve on?
Make an appointment to visit your campus careers adviser and arrange to take a self-assessment. Once you have completed the assessment, your careers advice will not only be able to offer you personal support but also suggest ways you can improve your skills.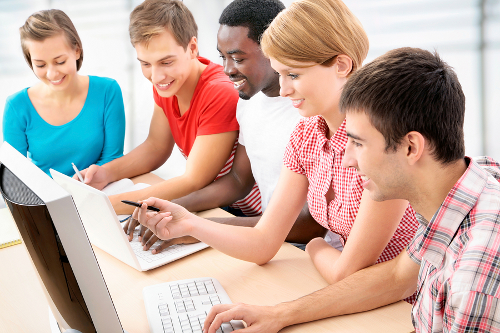 3. Explore Your Career Options
You deserve to find a career that enriches and interest you, instead of settling for any job. Think about your post-college aims and things that interest you, do you have a particular career path in mind?
Part of exploring your career options means taking the time to talk to professionals working in careers that interest you. Another way you can explore your career options is by shadowing someone working in a career field that interests you.
Your campus careers office should have lots of contacts who you could get in touch with for shadowing opportunities. Make an appointment to speak to a careers adviser and discuss whether they can put you in touch with anyone working in a career field that interests you.
Make sure to go along to any careers fairs or careers talks that your college puts on or has tickets to.
4. Get Involved with Extracurricular Activities
Many employers value graduates who spent their college years as an active part of a club or campus society. To find out what clubs and societies run at your college pop into your student's union for a chat.
With so many different clubs and societies to choose from, from sports clubs to fundraising societies, there is something for everyone.
To catch the eye of employers and graduate schools, it is important that you are active within your chosen society. Become a leader or organise an event, this will allow you to develop your teamwork and leadership skills – things employers love.
5. Be an Active Part of your Community
It is a good idea to become an active member of your community. By helping others and giving back to the wider community, not only will you have a greater understanding of the importance of helping others.  You will also improve your employability.
Employers are always keen to hire graduates that are willing to go that extra mile. By volunteering in your community, you are demonstrating that you are willing to work hard and go out of your way to help others.
6. Improve your Computer Skills
If your college runs any extra computer workshops or courses, make sure to take full advantage of them. Being able to confidently use a computer is vital in today's workplace, so it is important that you hone your skills.
Spend some time experimenting with different programs and software, you would be surprised at how much you can learn just by trying things out.
Spend some time learning how to create and develop your own online portfolio. Whilst a paper portfolio is good to have to, a web-based portfolio is much easier to show to potential employers, all you have to do, is attach it to an email. For some help getting started, get in touch with your campus IT assistants and book and appointment with them.
7. Hone your Writing Skills
Many employers and graduate school complain that graduates do not have good writing skills – don't be one of them. Make sure to attend all classes, regardless of whether they require a lot of writing.
Take the time to develop and improve your writing skills. If you are struggling with your writing,  you can either employ a tutor to help you or attend your campuses writing school for help and advice.
Remember, your writing quality is important. Especially as the first impression potential employers will get of you, will come from your written cover letter and resume. That is why it is vital that you hone your writing skills.
8. Get Some Experience
Getting experience in your chosen career field is vital for your future. Many recruiters only hire graduates with a good amount of experience in the field. To get some experience you can either apply for a part time job or apply for an internship.
Internships are an excellent way to gain some experience and build up contacts within your chosen field. In addition to helping to get a foot in the door, internships are also an excellent way to determine whether a particular career path is for you.
Part time jobs are not as career-based as an internship, but they do give you the opportunity to build up experience and make contacts. Plus, part time jobs are a great way to earn some extra cash. For all the best job opportunity's, have a look on jobapplicationcenter.com and on other employment sites.
9. Spend a Year Studying Abroad
To be successful, it is vital that you experience different cultures and ways of life. That's why a year studying abroad is an excellent idea.
Make sure to take advantage of all the study abroad opportunities that your college offers you. Not only will this improve your marketability, it will also give you the chance to experience a different way of life.