Creating the right home office environment can make a huge difference to productivity and work satisfaction. The right working environment provides a calm and pleasant working experience with minimal distractions, enabling you to focus on the tasks at hand. You can create a great home office environment by following these 5 steps.
Choose a Designated Space
Maintaining firm boundaries between working space and living space is essential for creating an effective home office. Avoid placing televisions, entertainment systems and other potential distractions in your work space. Ideally, your home office should be in a private area, away from children and pets, where you will not be disturbed. If you share your working space with other members of the family, it is important to negotiate private areas and agree to set times for your work activities.
Create the Right Atmosphere
Neutral tones, such as ivory, magnolia and beige, help to create a productive working environment by providing a clean look that doesn't distract or draw attention away from your work. Subtle shades of blue, green or lavender can also work well, as they help to calm the mind. You can enhance your working environment by choosing appropriate colors and tones. Adequate lighting is also essential for any home office. Dim lighting can lead to eye strain and tiredness, while excessively bright lighting can cause headaches.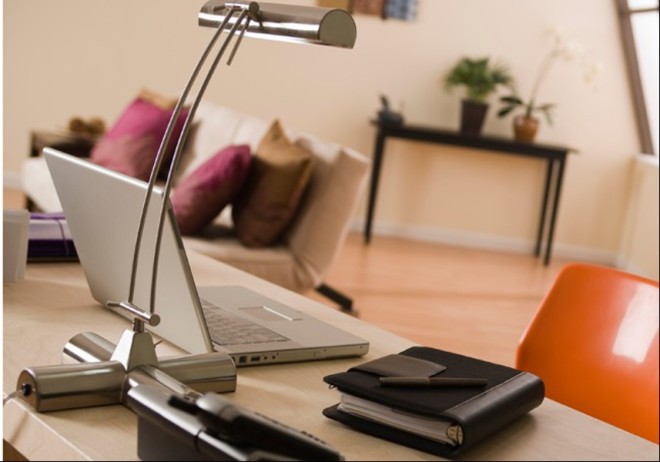 Consider the Layout
Make the most of your home office space by organizing your furniture and equipment to suit your needs. For example, if you need easy access to files and folders, consider placing a filing cabinet next to your desk. Experiment with furniture placement to find the best design for your office. Wires and cables from computers, telephones and electrical items can be a problem, particularly when power outlets are located in awkward places. Consider electrical outlets, telephone sockets and network connections when arranging office furniture. Use cable ties or plastic strips to organize wires and prevent safety hazards caused by loose cables.
Invest in the Right Furniture
Choosing the right furniture for your home office is essential, as poorly designed seating and work surfaces can lead to health problems, including back pain, neck strain and headaches. Ergonomically designed furniture and accessories can help to relieve tension and reduce the risk of developing strain or injury. Choose seating that provides back support and adjustable positioning to suit your desk.
Make Your Office Inspirational
Add finishing touches to inspire and help you stay motivated. Inspirational quotes, family photographs, pictures of your role models, professional certificates, awards and anything else that helps to inspire you can help to boost your confidence and motivation levels. Hang a list of work-related goals on your wall or make a wish list of things you want to achieve in the next 12 months.
Creating the right environment for your home office can make all the difference to productivity, as you are far more likely to stay focused and motivated if your working environment is comfortable, calming and inspirational