Have you started a miniature business andlooking for an online store builder to expand it on the internet without spending a huge amount of resources and time? Well,WixStores is the perfect solution for your e-commerce needs. WixStores is an extension of Wix.com, the free website builder. Wix is an ideal online platform, which uses drag-drop features to create a website quickly even if you have no knowledge of web development. With WixStores you can easily set up your online store and diversify your business over the internet.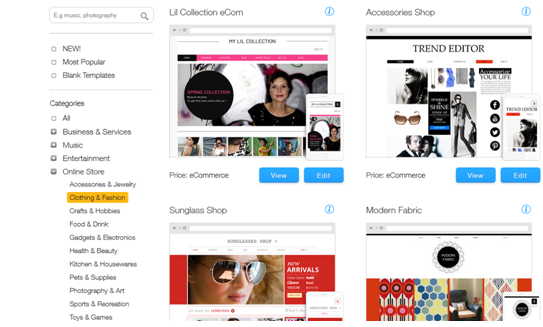 What Makes WixStores the Best Online Store Builder on the Internet?
The most innovative and user friendly features offered by WixStores make it a preferable choice of web developers. Some of the most attractive features include an HTML5 Drag n' Drop Website Editor, which provides an interactive website making experience for people who are new to website building, optimized mobile view for smartphones so that users will not have to create a separate website for mobile phones, blog integration and Wix App market to add various applications.
The Wix App Market is loaded with amazing business apps such as live chat, site search, form builder, checkout system and more to add on your online store and make it more engaging and appealing.
WixStores is like your own personal online office, which enables you to fully control the online store with great ease. The store manager can conveniently update the products, setup payment options, add coupons, set pricing of the products and track orders to manage inventory.
The smart action feature gives a whole new professional look to your business by giving the option of sending emails, newsletters, special offers, and thank you letters to the customers.
If for example you are creating an online store for clothing and fashion, there will be a separate page for each product with descriptions, video of the product and the option to choose multiple payment methods. A coupon box will also be available, if you wish to give discounts to new or regular customers.
The guide below will help you create a fully functional online store with WixStores:
Visit the WixStorespage and click on the "Create your Store" button to sign in
The next step requires you to choose a template for your online store. There are about 100 designer-made templates to choose from suitable for all business types such as clothing and fashion, toys and games, sports and recreation, health and beauty and much more.
Click on 'Edit' button to visit Wix HTML5 editor and to start editing your store.
With the intuitive drag and drop features you can edit the template; add or remove things according to your store's requirements. The 'Pages' option lets you add new pages or change the style of the current page. The 'Design' option is to change background, add colors and update font of the pages, while with the 'Add' option you can add elements on the webpage.
After designing the store according to your needs, hit'Publish', choose a suitable name for your store and voila your store is online.
By following the above steps carefully, you will be able to create your online store with WixStores successfully and start your online business in no time.
Subscription Plans
Wix offers both monthly and yearly plans starting from just $4/month for the most basic package. The most popular "Unlimited plan" is best for Entrepreneurs and Freelancers, as it gives a free domain voucher for one year, up to $75 gift vouchers and 2 free apps worth $118. Other yearly plans include"VIP", "eCommerce" and "combo" which cost $16/month and $8/month respectively. However, the only packages, which includes WixStores are the "VIP" and the "eCommerce" package.
The monthly plans are also very reasonable and start for as low as $5/month offering 1GB bandwidth, while the plan with unlimited bandwidth costs $15/month.