There is an age old proverb 'Prevention is better than Cure'; however, when accidents occur you may not know how to provide basic first-aid. Accidents happen suddenly, leaving you in frenzy about what hit you!  It is mandatory to have a well-equipped first aid kit, right in your place, for some temporary relief from pain.
Not just for residential use, but first aid box is mandatory for commercial or official sector, too. There are some basic medicines to be added in the kit such as painkillers and paracetamol, and headache relieving medicines, band aids, bandage and some cotton. However, these kits will be of no help, if you do not have proper training. For that, it is advisable for you to invest some time in doing a first aid course that can prove to be beneficial for some immediate help.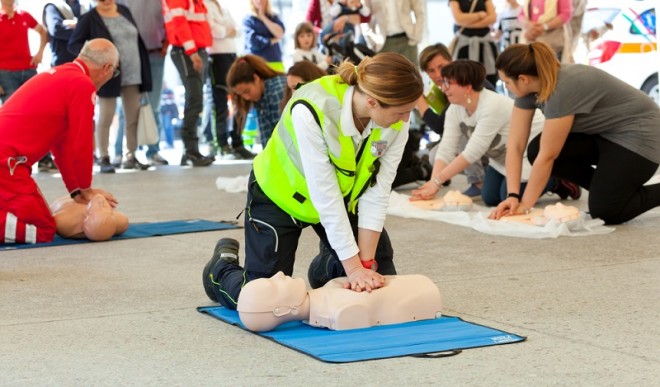 First Aid Course for Work
This kind of first aid course is meant for people, who are aged more than 16 years, and working under high hazardous environments. Some of those are manufacturing, construction or agricultural sectors. It is perfect for such organizations to assess the risk involved and impart proper first aid training as part of employee welfare and benefit.
This course is perfect for those employees suffering from disability or existing medical conditions.  The course spans over 3 days and covers content as set under Health and Safety Regulations 1981. This section will cover up topics on emergency first aid under working environment. It covers treatments for various medical conditions and injuries.
Emergency Aid Course at Work
There are some other important steps, which you are likely to come across, under the first aid course Through this course, the learners will be able to treat those patients, who are unresponsive, and not breathing, bleeding, having seizure, burnt or choking.
It further includes information on assessing casualty, dealing with emergency, monitoring casualty areas, to get help from. It further includes information on electrical incidents, accident reporting and recording, and COSHH.
First Aid for Babies
You might come across first aid course for babies, as well. As none wants their child to be in emergency, therefore; learning the basic first aid will offer confidence and help that is needed. This course is mainly designed, keeping parents in mind.
This course module is perfect for parents with children of various ages. It can further work best for expectant parents, who have been emotionally and physically preparing for their current parenthood.
This course module is best for family members, grandparents and even babysitters. In case, you ever care for any child professionally, this first aid course is best suited for you. For example, caregivers and creches or day cares should have basic first aid training as part of their services in case of any untoward exigency.
This course will help you to deal with children during emergency. You can help the child during choking, unresponsiveness, high fever and other forms of febrile seizures.
You can further add this course in your kitty to help children suffering from head injury, seizures, allergic reaction, and burns and even if, they swallowed anything harmful.
Some Qualifications to Work on
Before you try to add first aid course in your account, you must have some minimal qualifications. For the first step, you need to be patient. Some illnesses might take more time than what you have expected. Therefore, you must have proper patience to work with such course modules. Other than that, you must have caring and helpful nature to work with patients.