Uninitiated people tend to believe that any customer database software is nothing else but the way of storing contact information. Actually, modern customer database programs have evolved from the simple spreadsheets with a few personal details. Today, business leaders are fully aware of the fact that the right customer database solution can provide a set of robust tools to manage any type of operational data including sales, marketing, and customer service.
Also, referred as CRM, a good customer database management can help capture and nurture leads through the sales pipeline. Moreover, a properly chosen system can aid in building customer loyalty by collecting the key customer information from various open sources and accumulating it in one place, thus allowing for a personalized customer experience and excellent support.
But the beauty of customers database does not only lie in its ability to manage valuable customer information. Truly powerful solutions can automate customer-facing processes and workflows enabling the frontline personnel to do more with the least amount of efforts.
Actually, CRM platforms offer a plethora of tools to help enterprises increase sales and perform efficient omnichannel marketing campaigns. The best customer database software provides the following features:
Lead management to automatically find and qualify new prospects from various channels and nurture them through the entire pipeline.
Document management and automation to easily generate any document without leaving a customer database software.
Contact management to create detailed profiles of clients and partners with a complete purchase and interaction history and segment these contacts according to multiple parameters.
Email marketing to build personal email marketing campaigns and evaluate their effectiveness.
Sales quotes and invoicing to manage sales quotes and invoices for individual customers and customer groups.
Workflow management to design and automate customer-facing business processes.
Order tracking to keep tabs on orders straight from the customer database software.
Enterprise-wide workplace to ensure consistent team collaboration.
Analytics and reports to see the performance of sales and employees from different angles.
Competitor tracking to keep an eye on the competitors' activity in the social media.
The only thing left is to find the ideal customer database software that will encompass all these features to give companies everything they need for a steady income increase. Here are our top 5 of the most sophisticated solutions.
Bpm'online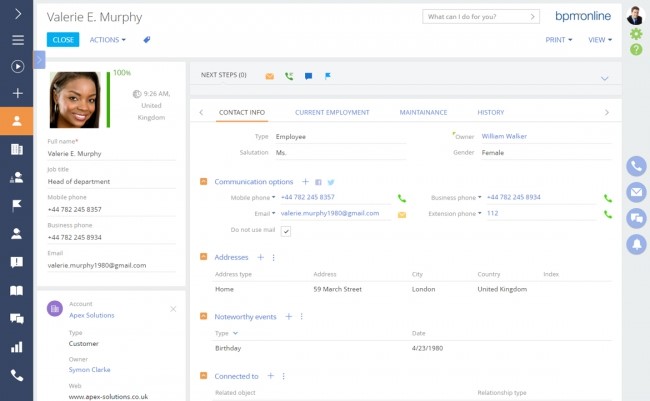 Bpm'online stands apart as the most powerful product at the CRM market owing to its generous set of tools incorporated in one cloud customer database software to ensure amazing customer journey. This rock solid solution easily integrates with other systems and applications. Highly customizable charts and reports can help organizations track their real-time sales performance and make accurate data-driven sales forecasts. The system also can be used to design and deliver marketing campaigns, record a complete clients' history, track prospects' website behavior and analyze campaign efficiency and conversion rates. Bpm'online key features are:
Unified customer database with account and contact management features
Multichannel communication
Contact center
Business process engine
Case management
Knowledge repository
Customization and data migration
Service catalog
Release management
Apptivo
Flexible and affordable, Apptivo can be an ideal CRM solution for small and medium businesses looking to record details on customers, leads, sales, invoices, and projects. This online customer database software features standard CRM functionality to track sales performance, handle customer tickets, and execute email marketing. Also, Apptivo can smoothly integrate with third-party systems like human resources or financials. The main instruments are:
Customer and contact management
Customer support
Interaction tracking
Lead management
Sales pipeline visualization
Win/loss analysis
Project management
Pobuca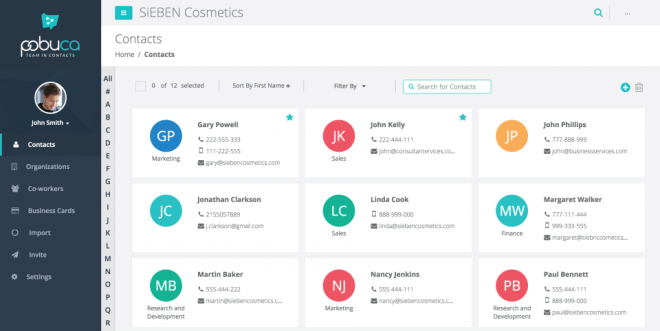 Simple yet powerful web-based contact management software, Pobuca enables for building a customer database and optimizing the communication with business contacts. The solution can find and automatically remove duplicates, update customer profiles from the social media, manage access and security of the information stored in the system, segment contacts by multiple filters, send custom reminders and notifications, etc. Pobuca features the next functionality:
Contact management with history
Group management
Data import/export
Email marketing
Search/filter
Social collaboration
Relenta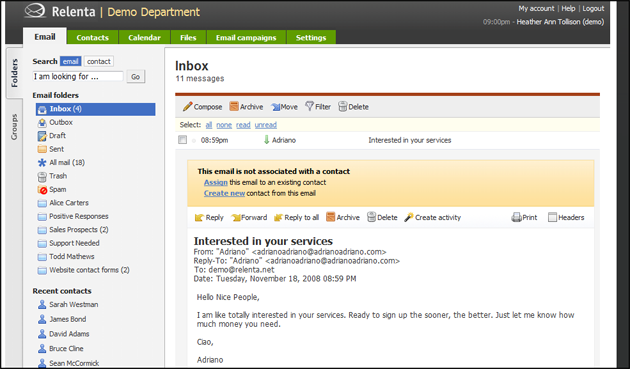 Relenta is intelligent software that can manage personalized business communications, a customer profile database, tasks, and events. It can help organizations keep track of contacts, add custom notifications to the contact timeline, organize better collaboration between customers and employees, plan and execute marketing projects, and assign tasks to managers. For this, the platform offers the instruments like:
Contact database with history, search and filter
Lead management
Group management
Customer pipeline
Email marketing
Shared calendar
Commence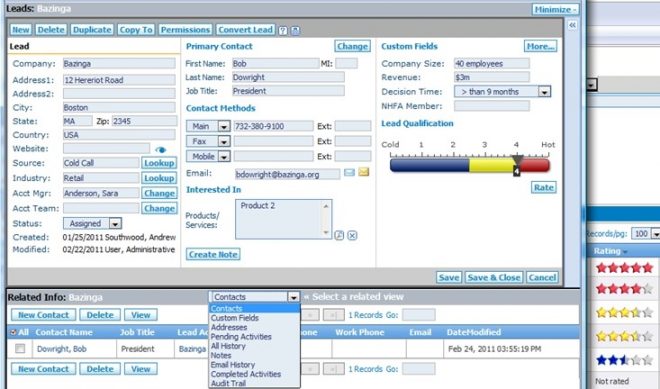 An intelligent technology of Commence is able to keep track of every contact found in its multifunctional customer database. Small and mid-sized enterprises of any market type can use this cloud database solution to arrange clients' profiles, store documents in a unified repository, control all facets of customer communication, and easily share customer information throughout the company. The suite of tools includes:
Contact and account management
Lead capturing, scoring, and nurturing
Email and contact center integration
Campaign management
Sales activities tracking and reporting
Ticket management
Appointment management
Sources: