Children grow up so fast, and before you know it, they're getting ready for college – the beginning of a life away from you. So, while they're still young and living with you, make time to know as much as you can about them better, and determine how you can help them get on the path that would lead them to success.
You may be a working parent like most parents are these days, but remember that work is something you'll do long after your children no longer need you. Therefore, during very crucial periods in your children's life – like when they're deciding about college – do prioritize them, and be present and involved.
While the young ones may want to exercise some independence during this time, this doesn't mean that they won't need your help anymore. Sure, they can cover most of the requirements on their own, but they surely will benefit immensely from just knowing that you're always there, ready to support them.
If you have a creative type for a child who is quite intimidated by college, and is also unsure if pursuing a higher education would actually help (something a lot of young creative people have the tendency to feel), here are some ways you can help him navigate his career path.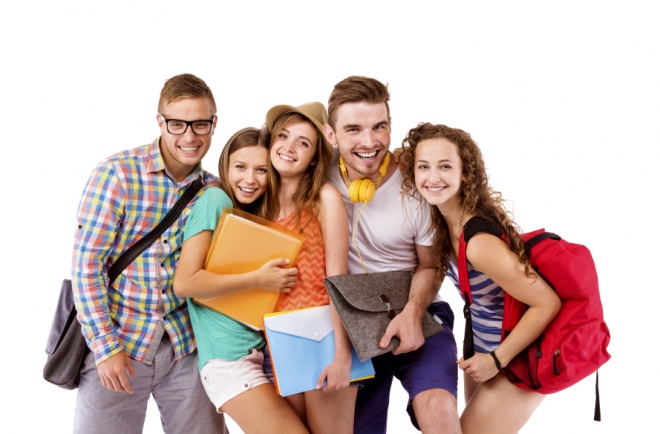 1.     Sit down and talk.
Let your high school student inform you about his dreams and plans. Ask him if there are ways you can help him achieve those. Perhaps you can buy him the materials he needs, or enroll him in classes relevant to his interest.
Keep communication lines open. Even if there are things that you cannot provide him, at least you get the chance to help him brainstorm solutions so he can have what he needs.
2.     Encourage your creative one's passions.
You may be inclined to worry that your child might live much like a starving artist, but do continue to support him in his passions. It's hard for people who love what they do to accept the possibility of challenges and failure; they may not become millionaires, but you can be certain they will be happy.
Besides, there are no more starving artists these days. The creative breed is not the type of person you need to worry about now, especially with the paradigm shift created by technology.
First of all, according to college admission consulting services, this is the era of creative minds. There's a place in every industry for artistic and creative people, which is why there are more courses now that are designed to hone creative talents.
Secondly, creative folks are resilient and can come up with solutions to rise above life's obstacles and adversities; that's why many of them are equaling the success of academicians.
And thirdly, they're dominating the business world – they're responsible for today's new top-earning enterprises.
3.     Present opportunities for your child to improve his skills and develop his confidence.
It's beneficial for young people to have a wealth of experiences that will allow them to fully explore their interest or talent. Search for opportunities for him to gain new and valuable experiences. Ask your child if he's interested in helping out with church decorations, or if he can assist the community's theater production. Perhaps he would like a part-time job with a start-up business that can use his artistic skills for posters and other marketing paraphernalia.
Through these opportunities to use and hone his skills, he may also discover other capabilities and interests. This discovery can make his college and career plans clearer.
4.     Turn to college consulting services.
If your child isn't sure what college course would be most fitting for him, or would actually lead him to the career that he sees himself having one day, college consulting services can definitely help. Their consultants are deeply knowledgeable when it comes to courses offered by different universities that are compatible with artistic and creative talents. Likewise, they can provide information on special requirements that college applicants need to meet in order to boost chances for admission.
There are still so many other ways to help, but the bottom line here is that parental support is crucial to a young person's success in his career. When young people know they have their parents' full support, they become assertive advocates of their passion and purpose; they're not afraid, and they believe they can (and will) achieve the creative career they want.
AUTHOR BIO
Brian Giroux is an experienced college admissions advisor and co-founder of Capital College Consulting. Brian is a Professional Member of Independent Educational Consulting Association (IECA). He has worked with students from over 30 countries to help provide guidance through the US admissions process.