Need a break from the monotonous life? No Worries. Delhi, the political capital of India, a vibrant and multi-cultured city with a big heart has always been everyone's favorite. Delhi NCR provides you so many options to spend quality time with family and friends. Be it adventurous water parks, religious sites, national parks, this city offers all.
If you are looking for a nice and pleasant getaway near Delhi, you have landed at a right place. We offer you a list of the variety of options which offers you a bunch of adventurous activities to pump your body with new energy and enthusiasm for the upcoming week.
1. WORLD OF WONDERS, NOIDA
A World full of Fun, Delight, and Wonder. The largest theme park in North India is one of the best places for kids and adults, both, where you can spend your weekend with your family and friends. A perfect amusement Park, Water Park, & Go Karting Track which is conveniently accessible at the heart of Delhi-NCR, surrounded with the shopping malls like The Great India Place & Gardens Galleria, is one of the best venues for office parties, themed parties, schools and colleges picnics, birthdays and other social gatherings. A regular ticket to each park includes access to unlimited rides and major attractions within the park.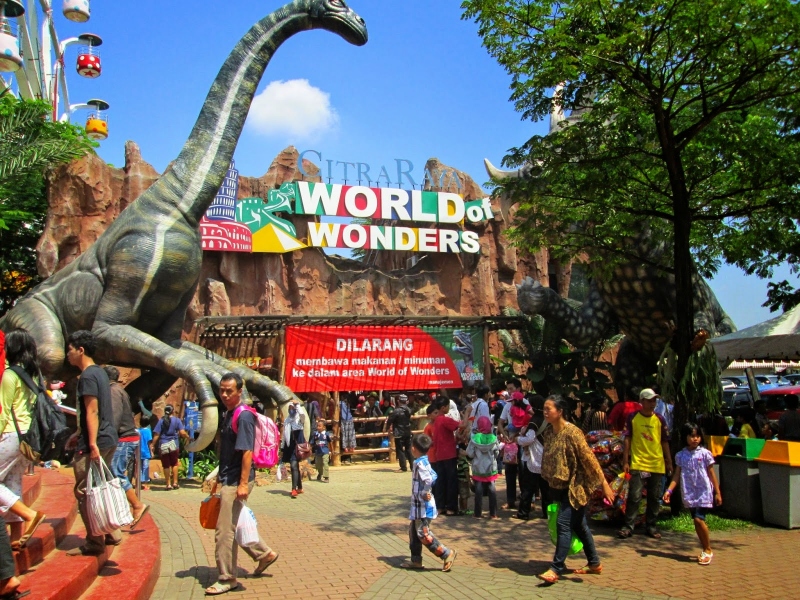 2. KINGDOM OF DREAMS, GURGAON
Located in the city Gurugram, Kingdom of Dreams is one of the best options to spend the quality times with friends and relatives. The best entertainment place in India which brings the live entertainment shows in Bollywood style with marvelous beauty and architecture is the center of attraction. It is India's first live entertainment, theatre and leisure destination.
If you are fond of clicking pictures, then what's better than the royal and amazing look of KOD? You can book your entry tickets at Bookmyshow, Tripadvisor, Cleartrip etc. You can avail heavy discounts using Cleartrip offers and make a visit to this awesome place and make your holiday-worthy.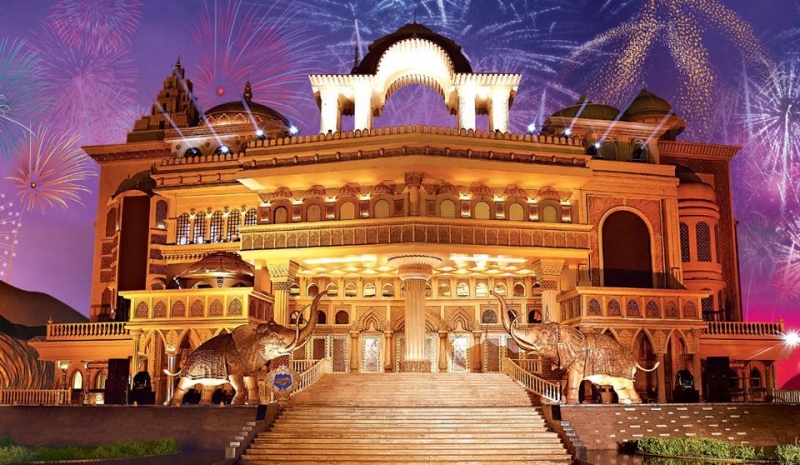 3. SOHNA
A place situated on the highway from Gurgaon to Alwar, Sohna, is easily accessible and a nice place for a day outing on the outskirts of Delhi. Sohna is known for its hot water springs located at the ancient Shiva temple. Many tourists visit this place to enjoy those water springs which have been modernized with a sauna and spa complex that provide the facility of the steam bath too. The other major point of attraction is Damdama lake which is known for boating and its picturesque surroundings.
And if you are fond of doing something adventurous, then you can enjoy the thrilling experience of Power Paragliding in Sohna. So, never let your holiday go in vain. Utilise it and plan a day outing with family.
4. SURAJKUND
At just a distance of 30 kilometers from Central Delhi and 8 kilometers from South Delhi, Surajkund is one of the vibrant places which is ideal for a short family trip. The destination comes up with a good option for those who don't want to travel so far and want to experience peace and relax in the lap of nature at the same time.
The "Surajkund Mela" held every year from 1st to 15th February is the center of attraction of this place. Also, this place offers you a mesmerizing and heart winning natural view with a traditional mix of Indian art and culture. It is best suited for the historical trips for school and college tours too.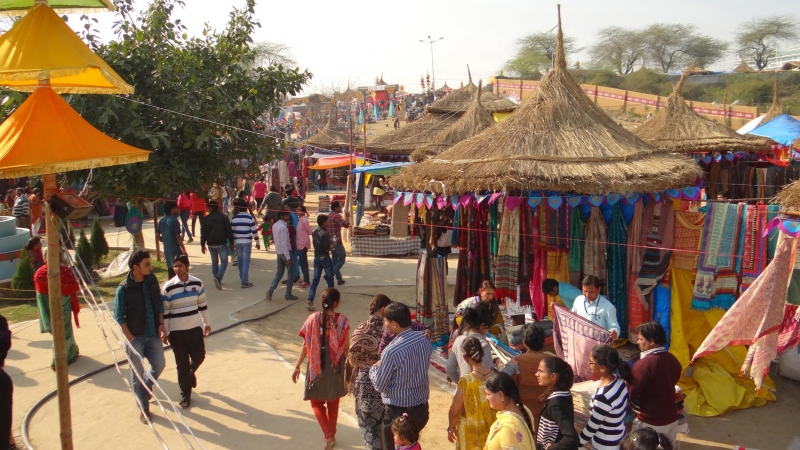 5. ICE SKATING AT DLF, NOIDA
Looking for something adventurous and crazy?
Run on wheels and that too on an icy surface. Wowww, Seems interesting. Isn't it? Well, you can experience all this in reality.
Ski India Snow Theme Park, DLF Mall Noida gives you the best experience and is a perfect and the best place to go and have fun with friends and family. It is the country's most beautiful and biggest indoor water park and offers unique skiing experiences where you can enjoy some of the best games combined with the skiing experience.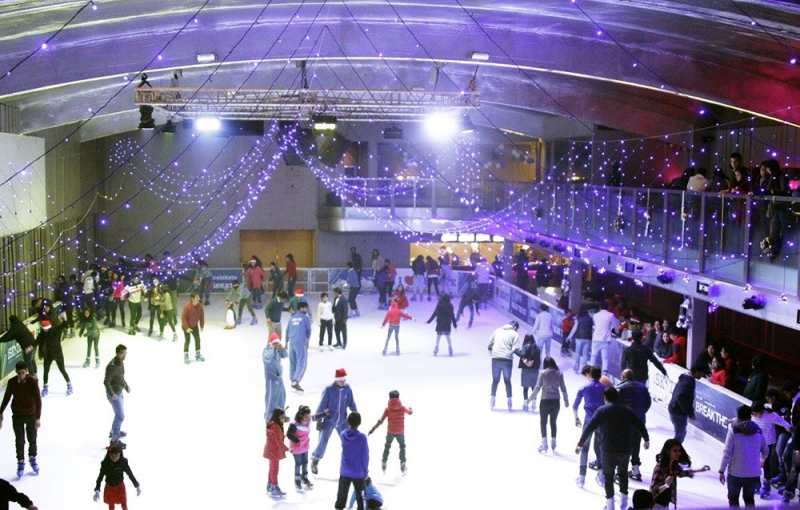 The major attractions of this snow theme park are I – Slip (Ski Slide), Multi-coaster (Toboggan), Icy Luge (Bob Sled), Snow Play Area, Snow Fall, Drift on Ice (Skating), Snow Runner (Sledging), Igloo, Snow Mobile, Snow Scooter, Spin (Snow Carousel) and many more.
Don't miss to have fun and have such a wonderful experience. Book your tickets early via Paytm and avail discounts and cashback offers. Have fun.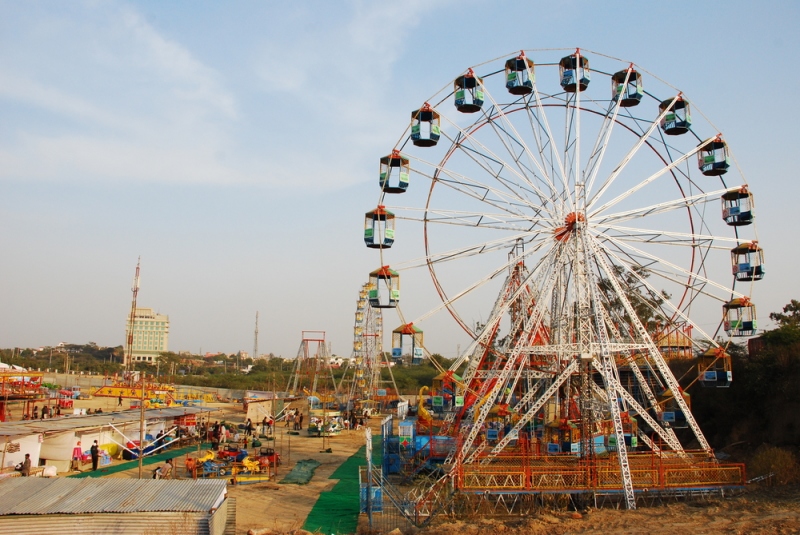 6. AKSHARDHAM
An eternal place of devotion, purity, and peace, Akshardham which means divine abode of God is the perfect place where you can take your kids and family on weekends for a day outing. Counted among the world's wondrous temples of worship, Akshardham is a perfect blend of technical modernity with traditional architectural styles.
Some of the key attractions of this mesmerizing place are Mandir made of white marble and pink stones decorated with domes, pillars, and murtis. The evening musical show which is held in the evening is a not to be missed show and an extraordinary experience. The Sahaj Anand water show which runs for 24 minutes is breath-taking and depicts the story from Kena Upanishad.
Don't miss visiting this amazing place. Plan your weekend soon.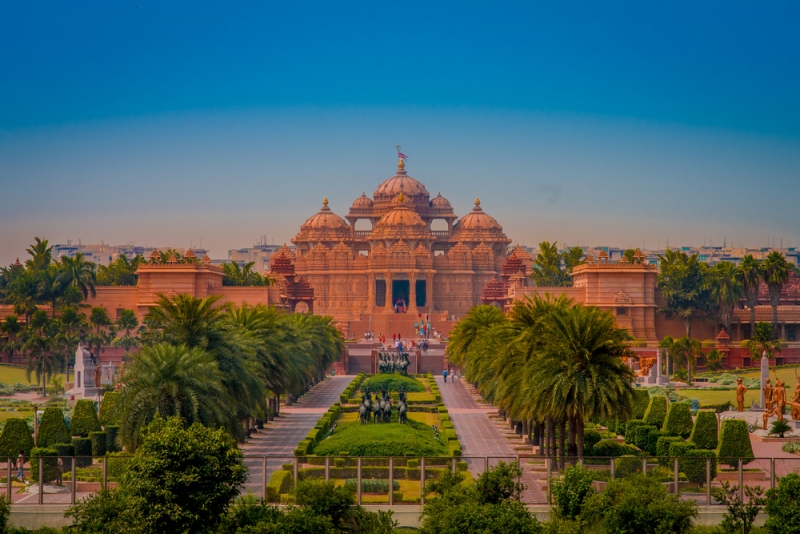 7. LIGHT AND SOUND SHOW AT OLD FORT
To go for a picnic with family, what can be a better option than Zoo and Old Fort. To witness the best and spectacular display of your history, don't miss the light and sound show at old fort held in the evening that will astound you beyond words and that too at a minimal cost. You just have to spend Rs. 80 and Rs. 40 on tickets for adults and children respectively.
The effects in the show are marvelous and are extremely informative as well as entertaining- a must-attend show, I must say. Go ahead and Plan to enjoy this very soon.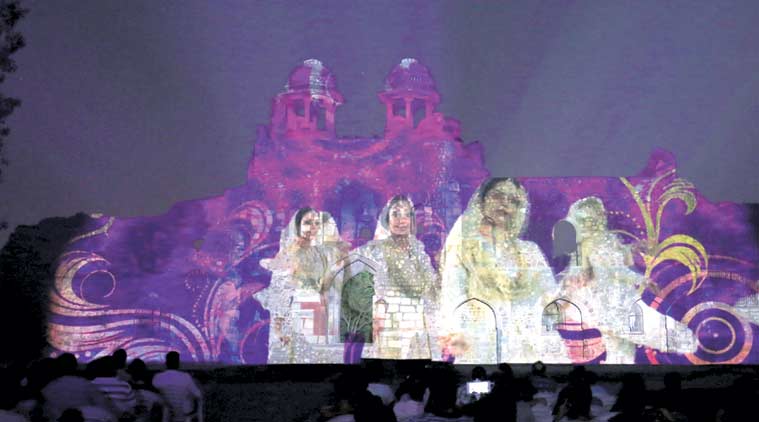 8. AGRA
Where better to go for a romantic holiday than to the great testament of love, the Taj Mahal? Built by the grieving Mughal Emperor Shah Jahan in memory of his late wife Mumtaz Mahal, the Taj Mahal's unrivaled beauty explains why it's regarded as one of the eight wonders of the world. A visit to India wouldn't be complete without it.
Agra is just 233 kilometers just 4 hours' drive away from Delhi. So, book your bus tickets or drive to Agra through the super awesome highway. Get lost in the amazing marvelous beauty of Taj, pack some Panchi's petha and come back!
Major Attractions: Taj Mahal, Agra Fort, City Tour and much more.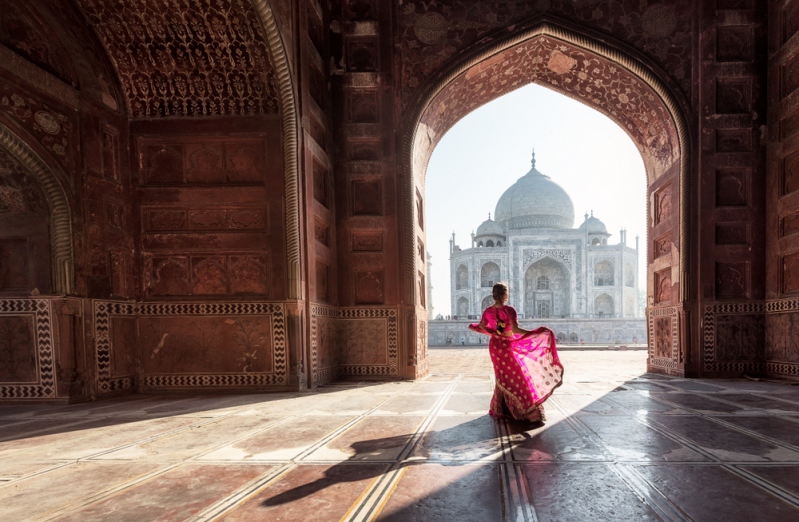 9. AMRITSAR, PUNJAB
Home to the famous Sikh shrine, Amritsar is a paradise for random tourists and devout believers. A city chiming with the divine ardaas of Golden Temple and is bound to calm you down and leave you stress-free. Amritsar is also known for its rich cuisine, sacred temples, folk art, and culture.
These places to visit near Delhi on weekends make a perfect trip for any time of the year. The cities are well connected by roads and transportation. A long drive through highway can definitely be a good choice in both cases.
This city must be visited not only for the beautiful Golden temple but also to experience the triumph and patriotism at Wagah Border and Jallianwala Bagh. You must visit Amritsar to experience the calm in the chaos.
Major attractions: Golden Temple, Wagah border, Jallianwala Bagh, Gobindgarh Fort, Durgyana Temple and much more.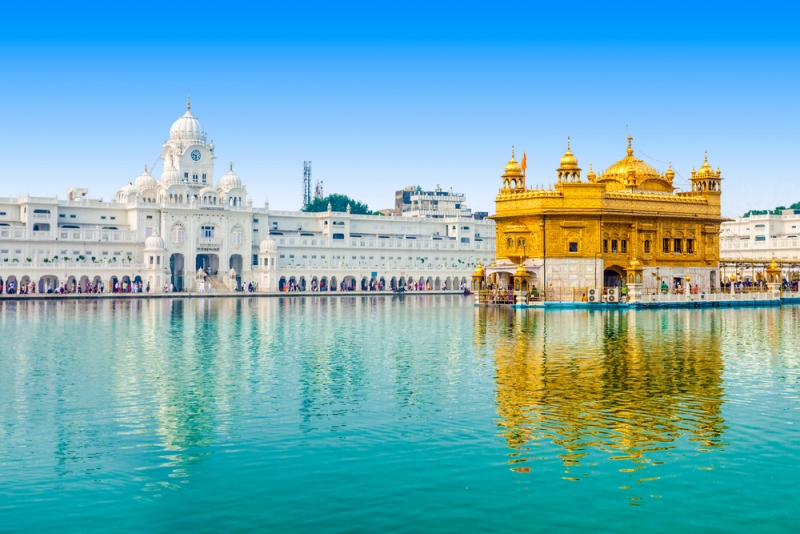 10. LANSDOWNE
A hill station in Uttarakhand located just 240 kilometers away from Delhi can be a perfect picnic spot for you if you are a nature lover and would love to chill in the lap of mother nature in a very quiet and calm surrounding.
Lansdown has its own beauty that is vibrant, eye captivating and looks amazing throughout the year. You can enjoy trekking, mountaineering and jungle safaris in Lansdowne. Some of the major attractions of Lansdowne are Bhulla Lake, Bhim Pakora, and many other spots.
The beauty of this amazing mesmerizing hill station is splendid and can't be put into words. This is just an amazing place to visit with your friends or family on a short weekend trip.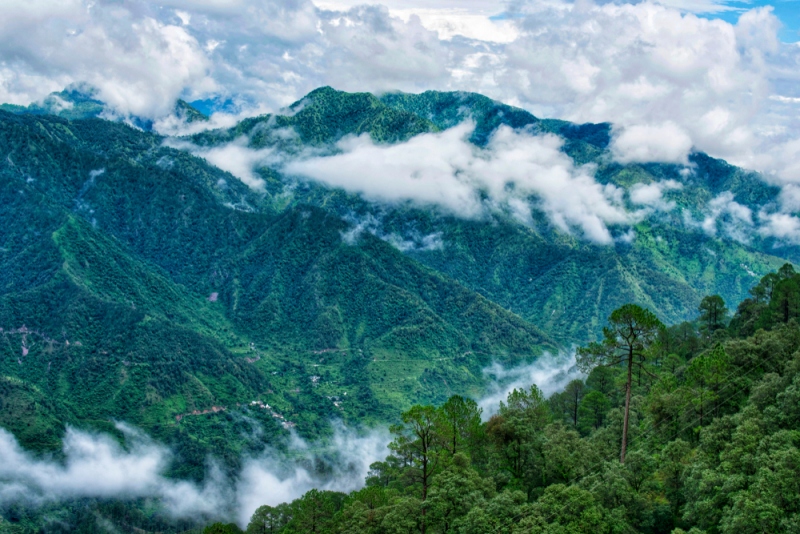 This is a list of some of the best places in or near Delhi you can go and spend the weekend with your family, friends, and relatives. Take out time from your busy schedule and visit these amazing places. You will feel good and happy.
So, get up, pack your bags, take your car and get ready to have awesome holidays.
HAPPY HOLIDAYS..!! 😊