The world is moving with such an amazing speed that the scenes are changed just in blinking of eyes. In this constant moving situation, there are a number of means of moving with this flow but a very intimate choice of any educated adult is to getting a good job which requires a smart interview appearance. If you can prove yourself in personal interview, that's great and you will get the job but what if you have to give job interview on a telephone call before you finally appear in-person interview? Would that be okay with you?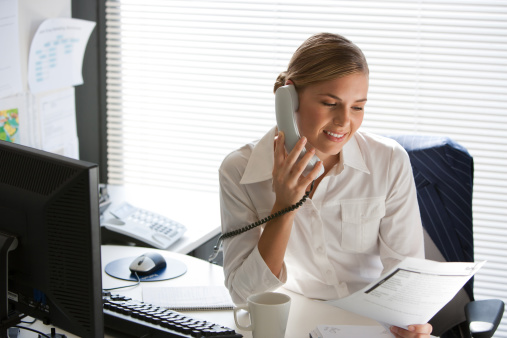 Telephonic interview is a new means of hiring an employee in order to save time, transportation distance, and to check the spontaneous response of employee. The employer checks the intelligence, convincing power and the portfolio just by listening to the audible (the accent, tone, pitch, and inflection). Therefore, one has to prepare himself soon after sending the CVs to different business organization. If you are not ready for it, here are top 6 most hitting tips for being successful during a pre-phone interview before the in-person interview:
1: Ease of Timing for the Call
Be aware that noise always looses the interest of the interviewer and irritate him/her very often. Make sure while attending that very important phone call, you are in an isolated place where there is no interruption, noise pollution and any other means of hindrance. Always try to connect via landline numbers as there are more chances of network problems while using a cell phone. Try to set your position where you get maximum signals. Set the timings with the interviewer so that you may have some prior preparation.
2: Alarm Your Brain Memory Keys
It is advisable that you always get full information about the job for which you are going to apply along with the details of the company. In addition to this, the remembrance if your curriculum and the previous work experience is also required while you are conversing on a telephonic interview. This will not only improve your confidence but having a boost of impression on the employer as well.
3: Concentration, Concision and Courtesy
At point 3, we need to focus the alphabet "C", (Concentration, Concision and Courtesy):
Concision: Rehearse yourself repeatedly with the frequently asked question in a louder voice and answer them louder so that you may check the pitch, tone and quality of your voice. The telephonic interviews are not meant for longer duration, so be concise, tempered in order to grasp the attention of interviewer.
Concentration: Note down and concentrate on the points of discussion in bullets so that you may respond accordingly. Do not be hotchpotch, if you are busy in some other task, put them aside while on a conversation.
Courtesy: Remember the rule, the start and the end should be very pleasing. The whole conversation will be fruitful if you end up the discussion in a more professional and courteous way.
4: Be Energetic and Happy
Keep an energy factor in your voice and tone while answering the questions. This will motivate you, boost your energy, and improve your confidence. Take the advantage of invisible factor and use your other senses in more appropriate way so that the end result will be positive.
5: Relate the Technology
You can share your achievements via a direct web link to most professional social networks like LinkedIn, Biomed Experts, Twitter and others. The interviewer has your complete curriculum vitae and from there he could click that link. Make sure you are too fully aware of what you have written in your CV.
6: Tone and Pitch
Control your emotions, temper, anger, and keep the pace in your voice quality. Do not stammer, do not fumble. Do not be over-expressive and do not be very quiet but give the best answer. The ambition and the enthusiasm towards your goal should be depicted from your voice. Show the brighter side of your personality just by controlling the pitch, flow and keep the rate of inflection balance.
Final Words
The above discussed guidelines are enough to get your ready for an impressive telephone job interview. If read all of these tips carefully, understand and practice as instructed, the chances of success will be much higher for you.
Author Bio
Susan Marshal is a HR Manager and a senior recruiter for a large IT Firm which has variety of projects including Done Assignment – UK Assignment Writing Service. Susan also has interest in academic writing and editing but she does not have enough time for this, however, she still contributes a little bit of her time from her busy schedule.