As the time of moving in to a new dorm comes closer, you must prepare yourself for a life that would be completely new for you. There is no need to panic upon seeing a room with no colors or personal touches. Keep in mind that even the most boring dorm rooms can look a lot better by using few craft supplies and creativity. If you are done shopping for your textbooks, shoes and clothes, then it is now the time to check out the following 6 inexpensive ways to personalize and decorate a new dorm room: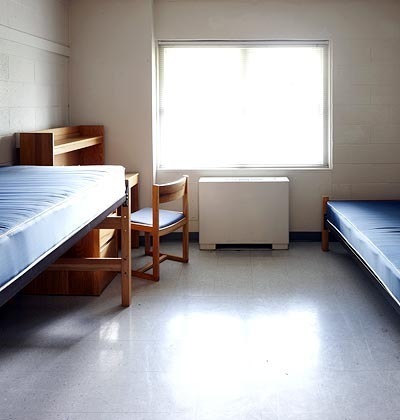 Hide Those Typical Dorm Floors
Try throw cushions, bound carpets, carpet squares and decorative rugs as they not only bring warmth to the room but also make an eye-catching and attractive focal point. But, make sure that you leave clearance for the door swings that would also allow the air to circulate in the room. Lack of good ventilations causes mildew and condensation very quickly, which are quite common in most of the dorm rooms.
Place Some Plants Around Your Dorm Room
Add a bit of nature in your room by placing some beautiful, small potted plants near the window or your center table. Dorm rooms are usually seen as unbearably sterile places, so you must bring some life to your room with plants.
Add More Personality To Your Dorm Room With Artwork
Integrate a new look to your room with trendy and stylish prints that inspire creativity and add a lot of vibrancy. You can collect beautiful pieces of artwork or print some of your personal Instagram photographs for creating a beautiful gallery wall. Try washi tapes to make the photo or artwork collection look cohesive. But before you do any of this, you must check with your college or university first and make sure that you are following their guidelines properly before installing the wall art.
Dress Up Your Wall With Sweet Memories From Back Home
You are far away from home and all you need is the sweet memories of your family and close friends. Gather nostalgic items from your home and put them up on a soft color sheet on your front wall. This way, you will see the pictures and important keepsakes first thing in the morning and last thing before you close your eyes at night.
Light Up Your Dorm Room
Who does not like a bright room? But the question is what can be done to light up a small, poorly lighted dorm room? The only answer to this question is a fluorescent fixture! Attach it to your ceiling so that the need for unnecessary and harsh overhead lighting can be eliminated. You can also add a softer glow with a small desk lamp too. If you want to try something different, then add the adorable flower lights that are also perfect at the time of Christmas. For this, you just need colorful cupcake liners cut in the shape of flowers with a center hole, and then glue them to back of fluorescent light.
Beautify Your Dresser
A very easy yet affordable way to make your dresser look tidy and beautiful is to add small jewellery boxes and make-up organizers to it. Buy a cheese grater and spray paint it to use as an earring holder. You can also make some cute jewellery boxes by wrapping up the spare shoe boxes with colorful wrapping paper.
Where there is an obvious charm of starting a new chapter in life, away-from-family and just with your friends, there is also a lot of other things that you need to get together to survive the new dorm life. Try these affordable tips and see a sudden positive change in your dorm room.
Author Bio: Alisha Ellis helps students who are facing difficulties in their education life and don't know what field to choose to get choose to get a good career start by her articles. She also consults students regarding their assignments writing. You can get her advice by following her on Facebook