Traditionally French flashcards have been the most used tools for educators, as they not only help to make learning experience pleasurable but also check cognitive overload. Flashcard is a card containing a small amount of information pertaining to a particular field, held up for someone who is learning to see, in simple term, it is an aid to learning. They are two-sided learning aids having a question, a theory, a sign on one side, and the "answer" on the other side. Flashcards have the following advantages:
Effective for learning within a short period of time.
Cost effective.
They are packaged in a small pack thus allowing for movement from one place to another to be used for learning.
Handy for note taking.
Can be used as a matching game thus facilitating learning.
Helpful for a quick review.
Instead of words, use pictures, illustrations, etc.
Unlike other learning styles it can be used while walking, talking out loud etc.
Scatter about a room for visualized identity.
Nonetheless, one should keep in mind if you want to effectively use them for learning the following tips and tricks.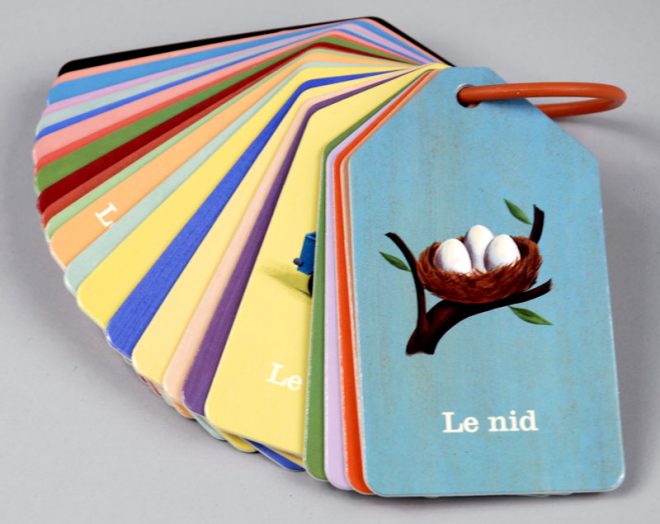 Listening to French for Vocabulary Context
Using audio and video to learn more vocabulary has almost the same idea as reading, but with the added benefits that you'll learn the pronunciation of a word and at the same time as the word itself. The main downside would have been not seeing the spelling of the word immediately, but with the use of a French flashcard, you get to see it thus reinforcing the definition.
Avoid disorder
It is very important not to mess your flashcard up by filling it with images. The flashcard as explained above should only contain a few key components needed for the study. Instead of filling them up with as much data as possible, they should be to the point and clear, so that your learners will have a chance of absorbing knowledge quickly and effectively. The flashcards provided by Word United is simply amazing because it has more that you can ask for when it comes to learning French.
Ask learners to participate in individual or group study sessions online
As stated above one of the advantages of using a flash card is that it can be used as a gaming facility. Ask your learners to compete individually or as a group online thus gaining more experience for other and learning from a wide variety of flash cards used.
Stay on-topic
Each collection of flashcards should be centered on a particular topic or the subject matter. Making a flashcard, which focuses on more than one topic results in cognitive overload as, stated above. Thus, it is advisable to focus on a particular subject matter so as not to confuse the learner and make learning fast.
Use appropriate and high quality images
Although the use of many images is not advised, that does not mean relevant images cannot be used. The use of relevant high quality images makes learning more interactive, fast and fun for the learner it allows the learner to effectively absorb the content thought.