Becoming a medical doctor is a dream of many students entering college. With high hopes, students follow a degree plan that works well for the medical field often majoring in coursework such as organic chemistry or biology. The entire process averages about eight years before students can become practicing medical physicians.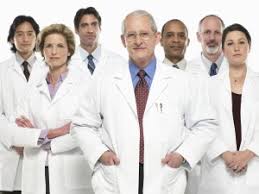 Different Routes
There are many different ways to get into medical school. Essentially all require taking MCATs or Medical College Admissions Test, an undergraduate degree and completing pre-med coursework. Once that is done, you can then apply to your preferred medical schools. Once in medical school, students spend another three years in school before applying for an internship program. QUARMS or Queen's University Accelerated Route to Medical School is a way to speed up that process and complete your degree faster. Essentially the bachelor program is condensed to two years instead of four and then students move into the Doctor of Medicine program.
Specialty Program
At some point in your schooling, students choose which field they would like to specialize in. Typically, students narrow this down before applying to medical school. Once in medical school, students have an opportunity to see different fields of medicine and determine the best one for them. Some fields require additional fellowships and training beyond a residency program. Certain fields are much harder to get into such as dermatology and plastic surgery. These fields have lots of interest and typically only admit those at the top of their class. There is a general shortage of general practitioners, family physicians and internal medicine doctors.
Medical Licensing
Once you have completed the schooling portion of your Doctor of Medicine career, students complete an internship program. Most students then go on to complete a residency program before practicing medicine in their own practice. Some programs combine an internship and residency program together. The more specialized and technical the field of medicine, the longer the residency program. Typically after the residency program, doctors take specialty boards. Once they pass the exam, the doctor is officially board certified in a specific field of study. Every few years, doctors take continuing education courses or retake exams.
Choosing to become a doctor is a worthy pursuit. Medical doctors typically have a stable career with good financial prospects. People get sick, break bones and need preventative care making doctors a constant regardless of the economic outlook of the country as a whole. The right route to becoming a doctor depends on the student's goals, financial capabilities and academic abilities.