College life was certainly no cake walk, so don't even think for a second that bagging your first professional and respectable job is like eating slices of cake either. In fact, it is quite challenging considering fresh grads have no real exposure or experience about the competitive business environment out there. There is seriously a lot of planning involved in the process which at the same time also includes plenty of research but less physical mobility ever since the internet took over.
It is extremely crucial that you sell yourself well in your interview, but in order to get that call, you have to advertise yourself professionally and plenty of other things as well. That is why we have taken the liberty of assembling a list of the best tips that will help you score your first job upon graduation: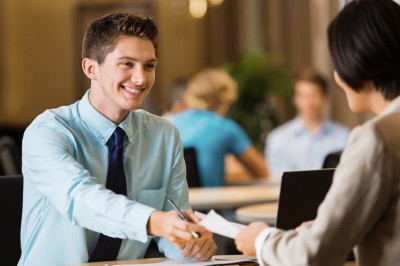 Craft a Stunning Resume
The first order of business that you need to get on straight is constructing an astonishing resume and portfolio. It should clearly include all of the qualities that are required within that company. Make sure that all your achievements and products are showcased in the most professional manner possible. This means that your resume should not contain even the slightest spelling error, any detail that's been justify out or anything that is fabricated or a lie.
Start Searching for Companies Online
As competition for the job market has climbed up, so have a number of opportunities on obtaining jobs that are relevant to our forte. Ever since the inception of the internet, the means of formal and informal communication and sharing of several exciting content have become a lot simpler and quicker. With the help of search engines such as Google, Yahoo and Bing you can search as many companies as you can. Visit their official pages and toss in your CV electronically to their email address.
Post Your Resume to Maximum Companies
You don't have to stop with one when there are hundreds of sites online and plenty of social media pages available to find the best job quite easily. This will greatly pump up your chances at getting employed for sure as you'll be receiving many probable call ups for dozens of interviews.
Dress Sharply for Your Interview
As you make yourself present in front of a professional audience, you must wear a more sensible or formal outfit for the occasion. Many companies and organizations appreciate employees who make a fine example out of themselves starting with their look on the outside.
Be Calm and Composed
You must never throw your interviewer off by engaging in uncouth mannerisms and behavior that is received as appalling and repulsive. To be more frank, you must never pick your nose in front of others, dig in your ear canal, scratch your chin or other abhorring places or do anything else that is indecent and unacceptable. You don't have to be nervous. Instead, just take a deep breath and be as calm and focused as you have to be.
About Writer: Mark David is working as a Senior Content Strategist for Essay Help Deal. When not working, he likes to watch fictional movies with his son.